How wide can you pry open your heart?
How wise the art of partnership?
How bright the light of Christ cascading out from within?
    In August 2 BCE, a brilliant star illuminated the night sky, a prophesied star.  In fact, this was not one star, but the conjunction of many heavenly bodies—Venus, Jupiter, and Regulus.  To the Magi star shamans of Chaldea, Jupiter's prominence often heralded the birth of kings and Venus was Ishtar—mother goddess of fertility.  Jupiter and Venus joined each other in a magnificent display in Leo, near the star Regulus.  Leo was associated with the tribe of Judah, out of which a King would be born, and thus the emergence of Christ-consciousness, the Light of Lights, the King of Kings.     A similar alignment has graced these SOULstice skies.  Every element of life, love, and creativity is epic proportion, beyond larger than life these days.  Under this alignment, the recent Firefly and Sonic Bloom festivals I attended overflowed with outrageous creativity—stages surrounded by unbelievably talented live painters, sacred earth mandala art with sound healing gongs and bowls, live music to packed yoga classes, eclectic electronic sounds from around the globe, workshops on everything from Sacred Geometry to Open Relationships to Astroshamanism, and tons of hedonic intoxication.
        The Jupiter-Venus conjunction which peaks this coming weekend, and returns late July/early August, knows no limits—it is inspired hedonism unleashed, the ultimate of indulgences, but what are we indulging in?
    As one of the four royal stars, Regulus connotes leadership and excellence, but also the egoic power plays and childlike tantrums of Leo. Thus, we are invited to all tend the fires of our creative passions, discover and honor our heart's true desires, without completely getting consumed by the enraged flame.  How do we feel regal and how do we receive the feeling of being honored and respected?
    With Venus already in her retrograde sign of Leo, we may become acutely aware of those with whom, in the delicious battle of love, we have unresolved issues with.  Or perhaps, how we have shut down our true selves in the name of relating.  This is why connecting with the spirit of Christ-consciousness is so vital at this time—the sacred heart of unconditional love invites us all to perceive through its lens of universal compassion, while acknowledging that each emotion we feel is a self-created reality.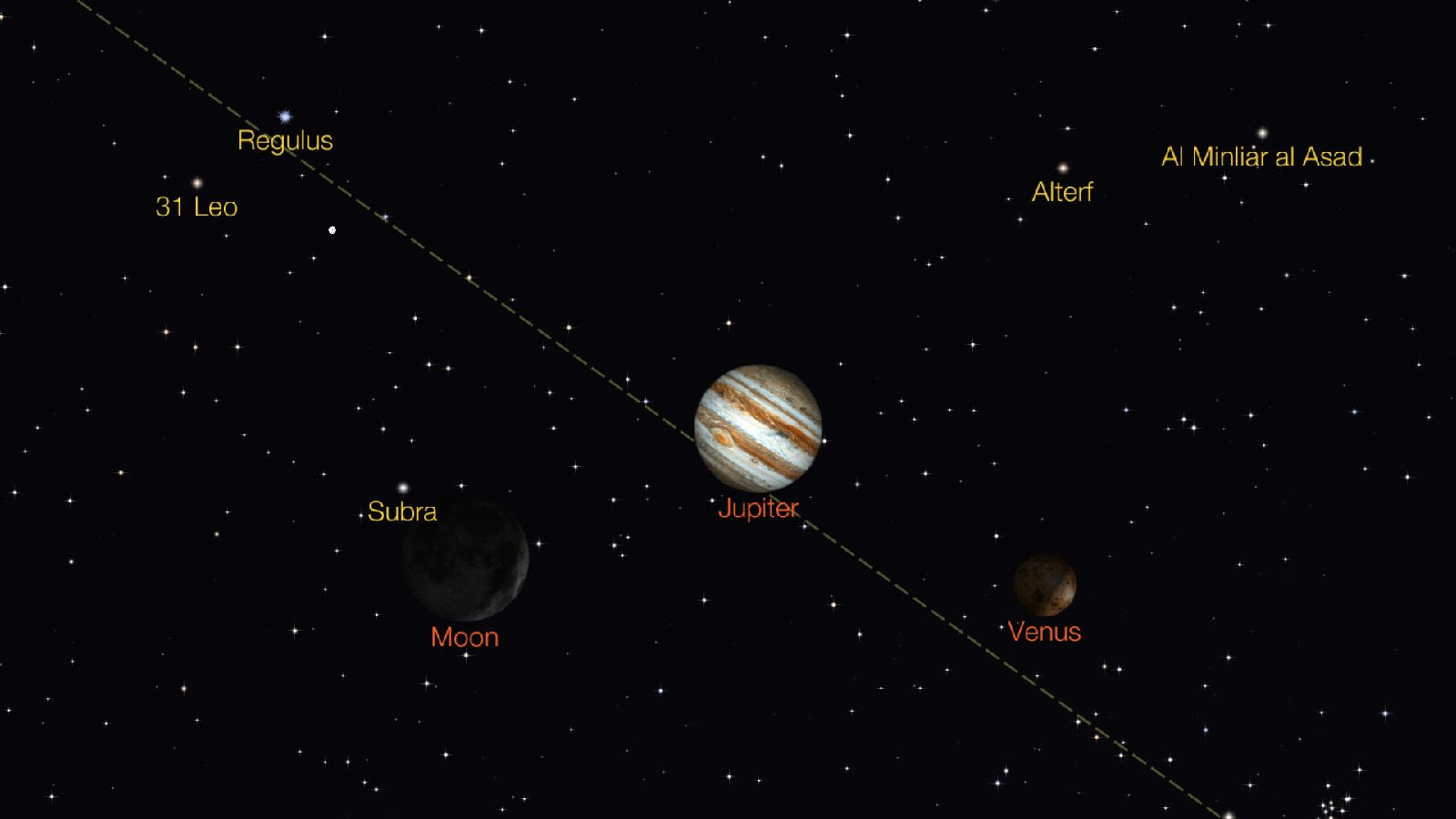 If Regulus is the Law-Giver, then the Jupiter-Venus-Regulus conjunction is the commandment to Love thy neighbor as yourself. 
The isosceles triangle configuration

on Saturday

night, in the image from Star Walk app above,
literally displayed the Law of Love and the order to the Universe, which the myriads of visionary artists share in their exquisite paintings, clothing, and stencils of sacred geometry.
        Love's constellations have their own special and mysterious sacred geometry.   This Jupiter/Venus conjunction in Leo also trines Uranus in Aries, so this unique alignment may be initiating a whole new vocabulary around conscious relating which allows for maximum freedom coupled with committed support.  Venus wants Jupiter's expansive and inspiring possibility, no limits, and Uranus wildly lets loose all rules so that freedom's path can naturally unfold, with fun and with surprise.
   But even the great benefice planets, Venus and Jupiter, spark a shadow side.  Combined with Regulus, in Leo, personal dramas may spark out of control.  The self-righteous arrogance of the king-queen stubbornly defends its position, and may even take vengeance on those who disagree with it.  With all the recent Gemini energy, vengeance may seep out through negative gossip or petty talk.
    The energy is BIG out there, an important time to watch ourselves and our reactions, but to also align and embrace the magic of synchronicity.  Keep your eyes on the western night skies these next few weeks: On the 30th and 1st, Jupiter and Venus will be exactly aligned, so shout out your love at the top of your lungs!!
    Further Jupiter-Venus-Regulus-Moon observations from Solstice weekend from my journal:
Today on Planet Earth, Stopping at Dakota Hot Springs after the Sonic Bloom festival:
    The energy of the conversations, like a Lion Pride or a Mexican-Italian family reunion— the tone, the gesture, the posture — all elevated extravagance, everyone's voice cranked a few nobs up louder, exaggerated in their presentation, not just naked bodies, but a proud sultan-strut to them, whatever their condition….
    A table where 4 people indulge in one of Leo's favorite pastimes – gambling, and the blonde haired 40 something guy with the paunch downing his bottle of Jack Daniels right next to them.  And this other guy smoking his vape-pen like a pompous cheshire cat, fully owning it, and then engages in conversation with the topless woman about how inflated the housing prices are (Jupiter-Venus = inflated costs), while she exudes the details of her own luxurious spending habits—the new furniture in the house and the new Ford Mustang, but she doesn't feel bad about it, she'll pay her bills, and the truth is She Wanted All of It. (Leo- deservedness and desire.)
     And within 3 days, I meet two different women (Venus), both of whom are firefighters (Leo), and one of theses women in the hotsprings, super stocky, strong, athletic (Jupiter-Venus) informs me of her recent Iron Woman triathlon obstacle course madness, and why she really needed some HOT springs….
        How hot, how immense, how intense is this?  Jupiter-Venus-Moon-Regulus Leo
no comments